New professional degree by ETH Zürich
The new Certificate of Advanced Studies "CAS ETH in Regenerative Systems: Sustainability to Regeneration" is now launching.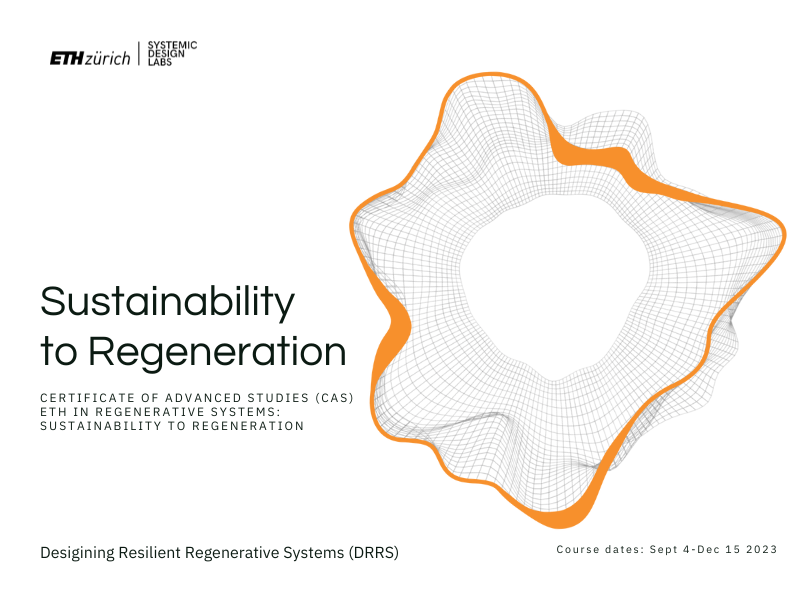 Pre-announcement and drop the dates
From September 2023 on, ETH Zurich offers a new professional degree as part of the program Designing Resilient Regenerative Systems (DRRS). The Certificate of Advanced Studies (CAS) is the first professional degree offered in Regenerative Systems by ETH Zurich, and the first CAS counting towards a future professional Master of Advanced Studies Program (MAS ETH) in Regenerative Systems.
Based on and building upon the established cost-free ETH DRRS MOOC series (Massive Open Online Course), this new CAS ETH in Regenerative Systems: Sustainability to Regeneration focuses on the student's individual QUEST transformative design project in their own bio-region, expands in themes, topics, critical discourse, and deepens the contact with teachers, further experts and the DRRS network in a hybrid format.
The CAS itself takes 13 weeks part-time in total and is taught virtually. The CAS starts with a physical design field trip of ten days mid September 2023 to the Italian Alps, more specifically to the real-world laboratory and bio-regional learning center MonViso Institute. The CAS cohort will embody complex systems and design for resilience and regeneration with all senses, and in a real life context. Elements of the field design trip will be the live prototyping of a serious game with local mountain community people and regional actors, embedded in a multiple day Systemic Cycles bicycle weaving tour in the High Po River Valley region between Ostana, Turin, Barolo and Saluzzo.
The DRRS program with this first CAS hybridizes sustainability science, systemic design and transformative action. It provides participants with access to latest sustainability science, it opens different worldviews, taps into mental models, provides designerly tools and techniques, considers personal development, builds communities of mutual support, engages in real-world experience and transformative networks to build one's capacities and engage in systemic innovation of complex systems.
Main dates:
We offered a first virtual information event on April 19th 8pm CET (Zurich time) via Zoom; the recording can be accessed here.
Further information events will be offered in the coming weeks and announced on the DRRS channels on LinkedIn, Instagram, the DRRS community, and here.
Application window for the CAS: April 20th – May 31st, 2023
Course dates CAS #1: Sept 4th – Dec 15th 2023 in a hybrid format: virtual and flexible, with a parallel physical stream and a field design trip to Italy (physical and mandatory) from Sept 10th – 20th 2023.
Please find detailed information about the DRRS program (MOOC series and new professional CAS/MAS program) on the DRRS microsite here, including the new educational program magazine for download.
More information on registration requirements, course outline and enrollment can be found at the ETH Zurich School for Continuing Education, in the DRRS community and related social media channels.
In the next week, after Easter, we will publish more detailed information here on this website, including a detailed brochure for download. Stay tuned – we are excited to meet you in the DRRS professional degree program.