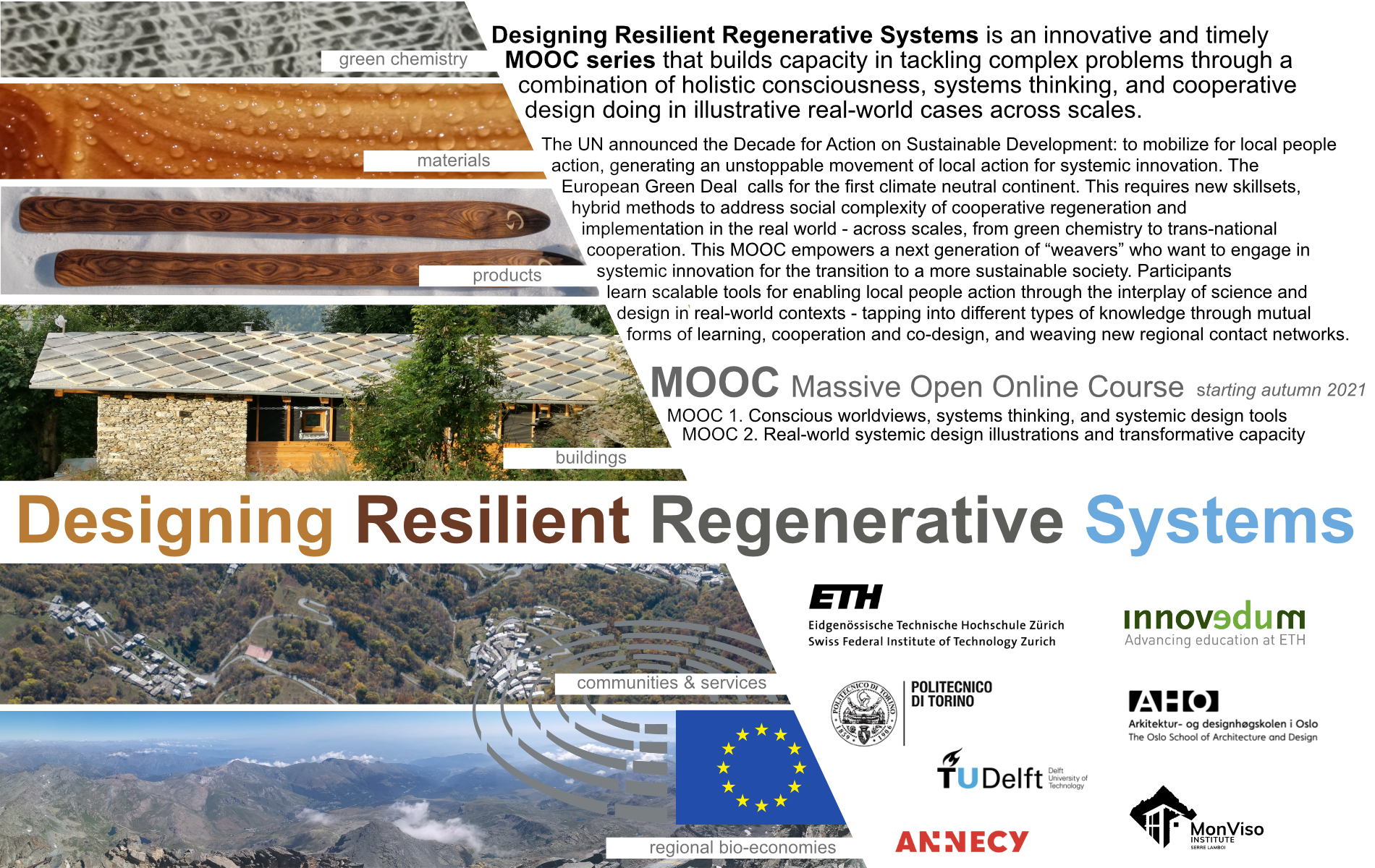 How to deal with complex sustainability problems that require urgent local action, and global governance? How to deal with the uncertainty of real-world experiments? How to think of the world and design societies in more respectful ways for the environment and for humanity? How to design systems that are resilient and regenerative?
"The human impact on earth needs to be fundamentally redesigned" – Daniel Christian Wahl, consultant teacher for the MOOC and author of "Designing Regenerative Cultures"
New systems are emerging. More resilient – capable of absorbing changes and crises – and even further, more regenerative – capable of continuous learning and transformation in response and anticipation to change.
This innovative Massive Open Online Course (MOOC), being offered first time in autumn 2021, provides students with worldviews, tools, illustrations and transformative networks to build their capacity and involve in systemic innovation. The MOOC aims to empower students with the necessary consciousness, motivation and methodology to identify and analyze complex sustainability problems and co-create effective solutions.
When
Starting in autumn 2021
Language
English
For Whom
The program is open to any student willing to go further than sustainability, connect with others and discover positive examples of transformative innovation.
Content
In this MOOC, at the interplay between science, design and transformative action, participants approach transdisciplinary ways to deal with complexity and uncertainty. They are invited to challenge their worldviews and get insights about system thinking and systemic design tools. They are encouraged to think holistically and to design locally in cooperation with other participants and stakeholders.
Throughout the MOOC, participants discover motivating examples of implementation in real-world contexts that help them to understand the theory better and to get inspired. They are encouraged to engage and co-design in the places they come from, in their own surroundings. We refer to "virtually nudged local people action".
In parallel, a collaborative platform will be created, uniting examples of real-world labs living the new reality.
The MOOC is based upon the ETH Innovedum-financed teaching program "Systemic Design Labs" of Prof. Tobias Luthe, and part of the ETH PLUS group of Prof. Dr. Adrienne Grêt-Regamey. It is created in partnership with the European Universities The Oslo School of Architecture and Design, Delft University of Technology and Politecnico Torino, leaders in the emerging field of systemic design.