RE:GENERATE alpine-urban circularity (autumn term 2019)
This course extended the systems scope from products to buildings, communities, entire landscapes and economies. The design challenge is to design a visual and partly quantified systems strategy to revive mountain livelihoods, focusing on local identity, resilient landscapes and a regenerative economy. The course setting is at the MonViso Institute, a real-world mountain laboratory for sustainability transitions and regenerative systemic design.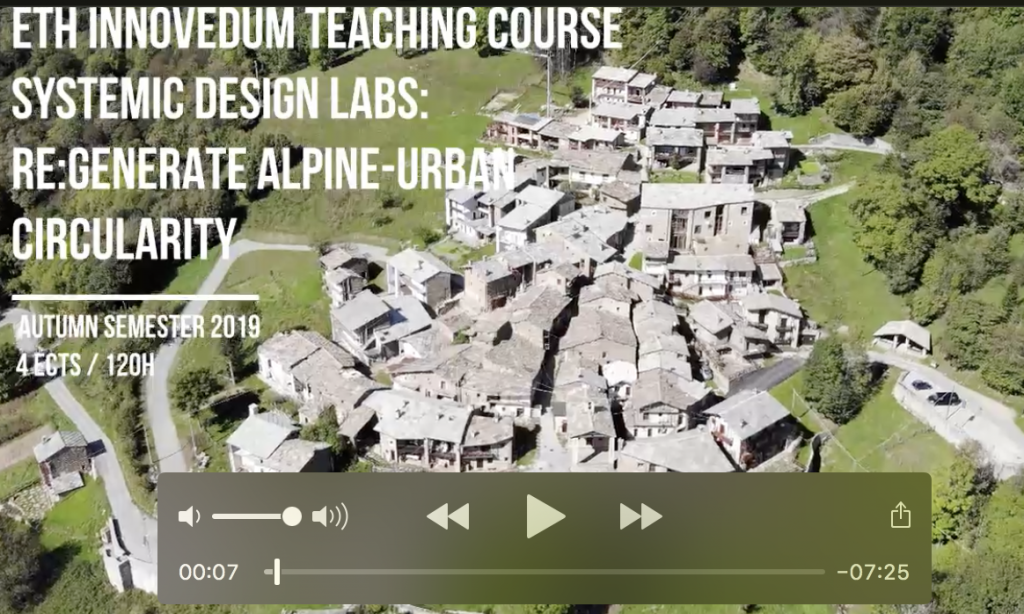 Systemic Design for Sustainability II (spring term 2018)
In this SDL course from the spring term 2018, students prototyped an educational fabrication kit – for building snow shoes – as a tool for schools and the public to teach sustainability. The educational snow shoe toolkit is optimized for circularity and environmental impacts, while displaying timely engineering skills like 3D printing and laminating with upcycled and renewable materials, such as bio-plastics and flax-Paulownia composites. The technical design details are inspired by nature's creativity and adhere to general systemic design principles. The "Student Project House" at ETH Höngg provided the needed facilities for creative design thinking, fabrication, and nature access.
The prototyped toolkit is ready to enter the transdisciplinary testing phase with schools before possibly spinning-off for its upscaled market implementation.
Systemic Design for Sustainability I (spring term 2017)
Hosted by Engineering Design and Computing Laboratory EDAC of D-MAVT
This course introduces students to systemic design for sustainability to enable designers and engineers to take more effective action toward improving the complex sustainability challenges of today. Fundamental topics in systemic design cover the main theory, methods, and frameworks. A main theory part focuses on sustainability sciences and how to merge engineering design with sustainability. Students designed and engineered their own outdoor sports product, a Surf-/Kite-/Skateboard, or knives from upcycled steel. Company visits to e.g. Freitag (upcycled bags and eco-sourced clothing manufacturer from Zurich) widened the scope to practice.
Integrative Ski- and Board Building seminars (autumn terms 2016-17 and 2017-18)
Hosted by Engineering Design and Computing Laboratory EDAC of D-MAVT
This series of practical ski/board building workshops consist of planning, designing, engineering and building your own alpine or nordic ski, or a snowboard – and testing it in the field. Students learn and execute all the needed steps in the building process, such as functional design, creating the CAD file, additive manufacturing techniques, fabrication, routing wood cores, 3D printing of plastic protectors, milling side walls from wood or ABS plastic, selecting fibres from carbon, glas, basalt, flax or hemp, laminating with (eco)resins, sanding and finishing, as well as laser engraving and veneer wood inlays. Experienced lecturers will be on site to teach and help with these tasks. Students are asked to eco-optimize their products, actively evaluate their learning and decision making process, and participate in a final ski test day on the snow.
ETHZ ski building workshop movie documentation